Northern California's Top Trainer Answers the Most Asked Weight Loss Questions of Danville Residents
Mark Rogers, owner of Mark Rogers Fitness, has the most successful and
most referred weight loss program
in the Tri-Valley. Recently Mark took the time to answer some of the most popular questions that Danville residents have about losing weight, staying fit, and battling hunger.
Here are the exclusive, straight forward, no-holds barred responses from Mark:
#1: I am working out and exercising for three hours a day, at least four days a week, so why am I still not seeing any significant weight loss?
This is a very common issue for many people who are trying to lose weight or build muscle. Exercising for long periods of time is the not the answer to any weight or fitness problems. In fact, you can actually accomplish the exact opposite of what you are trying to achieve by overtiring your muscles to the point where they no longer respond. I have found that the absolute best way to stay firm is to have
short, intense workouts
that combine cardio, strength, and core training. That is why my clients are seeing such dramatic results with the Blazin' Bodies Boot Camp; it uses
all three styles
, one right after the other, keeping the blood flowing, and the muscles working.
Click here
for more information on the exclusive boot camps offered by
Mark Rogers Fitness.
#2: Following a well known celebrity's diet advice, I have cut all of my meals in half, but I still cannot lose weight, and now I am hungry all of the time. Why?
Unfortunately, what works for one person does not always work for everyone else. Many celebrities and fitness trainers have offered their own diet plans, but very few of them are actually effective because they were designed for their body types, not yours. In order to really see a
substantial reduction in fat pounds
, you need to first understand how your body processes fat. With all new clients, I do complete
body fat testing
, and then design a
customized nutrition plan
that will work for them.
The second part of my answer to this question is that
eating less does not necessarily translate into less fat
. A high metabolism is the most efficient way to burn calories and fat like there's no tomorrow. However, if you stop feeding your body, it will slow down your metabolism which thus makes burning fat much more difficult. It surprises most people to know that eating plenty of the right foods, more frequently, leads to
faster, more consistent weight loss
than starving or cutting back on meals.
#3: What are some ways that I can make working out more fun to make sure that I stick with it?
Motivation is crucial to any weight loss program and without it, you will not see many results at all. To keep things fresh and new, I recommend changing the exercises in your routine, working out with a friend, and seriously considering having a personal trainer help you. Speaking from experience, having someone there to keep the workouts fun and unpredictable is inspiring and makes you
want
to exercise.
One of the things that I do in my personal training and boot camps is use a
variety of different exercises
so that it is not the same boring routine every time. But, this only works if you are using the
right
exercises. The truth is that some exercises are much more effective than others at quickly blasting away stubborn fat pounds.
#4: Why does my weight keep going up and down and what is preventing me from staying at my target weight?
Depending on the methods you are using, the weight you lose might be only temporary. This is especially true with many supplements, diet pills, and exercise products. It is not their intention to help you maintain a healthy weight for the long term as they are designed to keep you hooked. Then the weight comes right back again. My approach is to use a
complete weight loss program
that not only delivers
fast results
, but also makes sure that you
continue to stay in your best shape for the rest of your life
.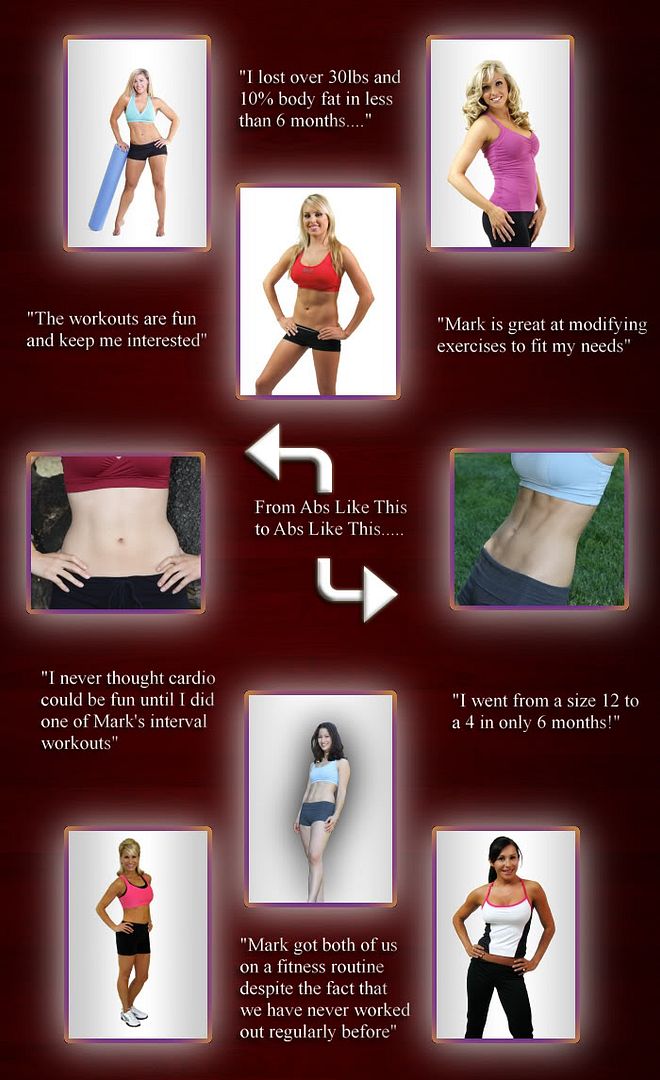 If you have any questions for Mark about exercise, nutrition, or Danville weight loss in general, you can contact him at (925) 931-1120. Or, feel free to sign up for the
free Mark Rogers Fitness Newsletter
to your right. The newsletter contains the most helpful and factual fitness, nutrition, and wellness tips available anywhere and you'll be eligible to win a free personal training session.
Note:
Due to the massive success of the program, Mark Rogers Fitness Personal Training is only available on a
limited basis
in Danville, so please contact Mark now at
(925) 931-1120
to make sure that you reserve a
free consultation
.
We also serve surrounding areas of
Danville with our personal trainers in Alamo
, and
boot camps in San Ramon
.
Mark Rogers Fitness, serving Danville, Including 94506, 94526
________________________________________________________________________
Mark Rogers Fitness Personal Training is proud to offer our exclusive programs all across the San Francisco East Bay and Northern California. Just click on your area for more information.