Completely New Exercise Program Leads to Record-Breaking Weight Loss in Danville, California
As the other areas of the country look on with envy, Danville residents are taking advantage of the amazing results that a new method of training is providing. And the best part is that they enjoy every minute of their workouts.
If you live in Danville, California, you might be wondering what is there that would cause such a revolutionary situation. To answer that question correctly, it begins with Northern California's
most respected personal trainer in Danville
, Mark Rogers, and the introduction of the
Blazin' Bodies Boot Camp
.
Although bootcamp training has been around for years, and its popularity has steadily grown, people have
never
experienced this kind of success with them before. The difference with Mark's Danville boot camp training is that his clients see their results fast-
within days
, instead of the weeks or months of waiting that most other camps require.
Setting his program apart from the other available bootcamps, Mark includes a
customized nutrition plan
on top of the non-stop
cardio, weight, and core training
that the workouts deliver. The unpredictability of the movements performed in a
certain order
makes the body
respond positively with every single repetition
. No more wasted effort and no more tedious routines.
Losing weight at an incredibly fast rate sounds awesome. But what happens if the weight comes back? As you know, getting into the best shape of your life is a
long-term goal
, and that is exactly how Mark views it. Simply put, the Blazin' Bodies Boot Camp is
not
a plan for temporary weight loss. It is designed to give you your
ultimate physique
for the
rest of your life
. More energy, the shedding of unwanted pounds, and a firmer, toned body are
all benefits
of this incredible boot camp.
How does Mark know the most effective way to lose weight? Because he has already personally helped
hundreds of people
win the war against weight loss. All of the things he has learned are put into the program. Along with that, another one of Mark's main concerns is
keeping you motivated
. That is why he made sure that the Blazin' Bodies Boot Camp is
fun
as well as
results-driven
. You will never be bored with his workouts, which means that you will actually like getting in shape.
Does Mark offer a guarantee like some of the other Danville boot camps do? Of course not! Mark's guarantee is
much different
than anything else you have seen. Here is it:
If after leaving the Blazin' Bodies Boot Camp, you ever regain any weight, you can come back and train for free.
Now, you are probably reading that last part again. That is a
real guarantee
that lets you know how dedicated Mark is to helping you achieve your fitness goals and then
never letting you go back to where you were before
.
As an additional incentive, every person that finishes the Blazin' Bodies Boot Camp will also receive a
free pair
of their favorite designer "skinny" jeans. Just pick out the pair that you want and they are yours. And don't forget that the workouts are
fast and convenient
, which means that you can easily fit them into your busy schedule.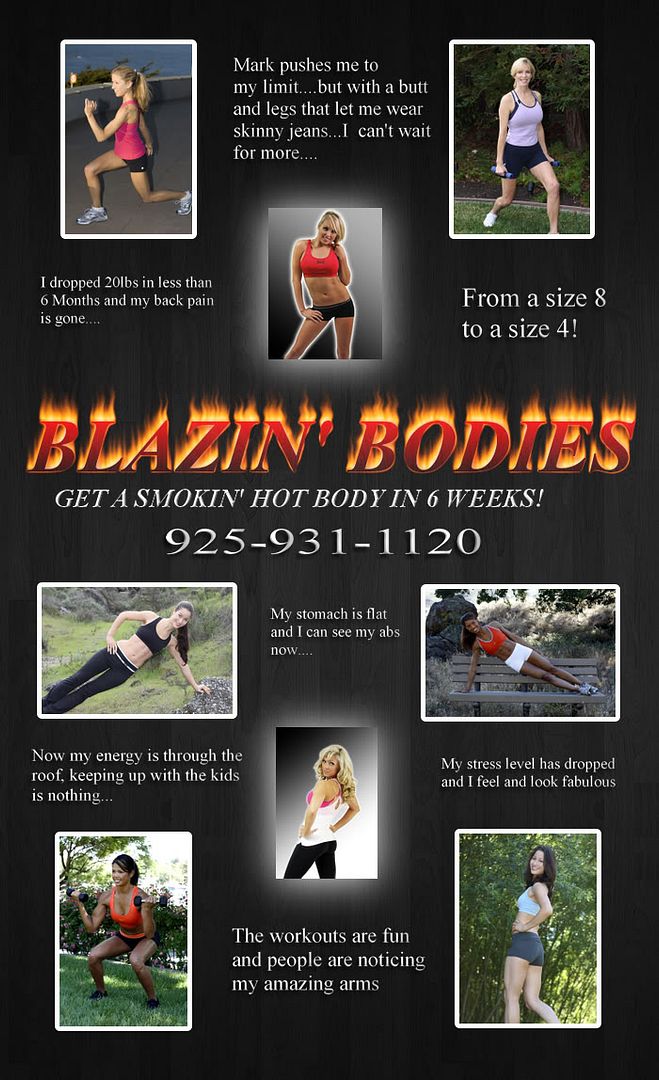 If you are ready to see and feel the new you as you watch your body become
toned and sculpted
, while having
more energy
, please contact Mark as soon as possible. The overwhelming demand for the program is making reservations limited, so if you are serious,
now is the time
.
Click the link to the right if you would like more information or details about the exclusive
Blazin' Bodies Boot Camp
:
San Ramon Boot Camp
Alamo Fitness Boot Camp
Dublin Boot Camp
The Blazin' Bodies Boot Camp serves Danville and surrounding areas, Including 94506, 94526
________________________________________________________________________
Mark Rogers Fitness is proud to offer its exclusive boot camps all across the San Francisco East Bay and Northern California. Just click on your area for more information.